ALERT!
You are about to be re-directed to our shiny new blog-friendly news site. The news items below will quickly become outdated.
ALERT!
FIREFLY & SERENITY NEWS
by &
July 22, 2005
Joss talks about Comic-Con

Joss posted about Comic-Con on the Universal board. Apparently he loved the fan table and the Equality Now postcards! Woot!
July 21, 2005
Mal's Song Music Video

In case you missed it a couple of weeks ago, Michelle Dockrey and her filk trio "Escape Key" created an amazing tribute song to Firefly called "Mal's Song". I loved the song so much I created a music video for it. With her permission I can now make it available. Since the video is very large (48MB), I decided to give my server a break this time and put it up via bittorrent. If you don't know how to download bittorrent files, here's a tutorial. The video requires QuickTime 7 or newer (just like the original Serenity trailer).

Download: Full length Mal's Song Torrent. (please seed it for a while after downloading)
Download: Small low res sample of the first minute.
Firefly on SciFi Channel Tomorrow!

SciFi channel will start running Firefly (in the correct order) starting tomorrow night - Friday July 22 7 p.m. Tell everybody!!! Don't forget to check out the SciFi Firefly website.
[Our Comic-Con report still coming shortly - including a review of the final cut of Serenity (it's not 100% glowing - okay 99% glowing, hey I'm a fanboy...)]
July 20, 2005
Serenity podcast "The Signal" episode 3

Serenity & Firefly podcast "The Signal" episode # 3 is now live. You can find it on iTunes 4.9, or iPodderX or you can download it directly.
International Serenity Trailer

The international trailer for Serenity is now online.
As with any trailer it contains spoilers.
July 18, 2005
Comic-Con report coming soon

We are back from Comic-Con, and attempting to recover. The fan table was a huge success and raised thousands of dollars for the charity. We were also able to get some great footage and interviews for our documentary. Thanks to all that helped make it such a sucess. Full report coming soon.
July 11, 2005
Leaving for Comic-Con

Due to my preprations for Comic-Con, I'm way behind on updates, here are a few items I missed over the last week or so:
Comic-Con

If you are attending Comic-Con, please visit us and the SF Browncoats at tables A11-A12. We have lots of freebies from Universal: buttons, mini-posters, Serenity brochures, and a CD sampler with music from Serenity. Yes you heard that right. Joss has selected some music samples of music from the film, and we will be giving them away at the table. These CDs will be arriving at our table sometime on Friday, trust me these won't last, so check back often.
As I've mentioned before, we are also raising money for one of Joss's favorite charities "Equality Now". Each $5 charitable donation will give you one entry into a drawing for some shiny thank-you prizes, like Inara's Red dress, Kaylee's Parasol, an iPod Shuffle, Signed scripts and much more. Check out the full prize list.
We will also be selling some DVDs to cover our hard costs for the booth, we will be offering 3 DVDs full of footage from previous conventions featuring our big damn heros.
Firefly Documentary now filming

Myself and several other Browncoats have started filming a documentary on the Firefly story from the fans perspective. It will be titled "Done the Impossible" and is a professional quality production shot in HDTV. The documentary will be available for purchase on DVD later this year. If you have a story about how Firefly has influenced your life, please , we are actively seeking interviews. If you were lucky enough to be an extra or crew on the show or film we also want to hear from you. Your best chance to catch us will be at Comic-Con or Dragon*Con, but we will also make ourselves available throughout August.
Starlog interviews Gina Torres

Starlog magazine's August issue features a great interview with Gina Torres, check it out on newstands now.
Serenity Comic Issue #1 delayed

Serenity comic issue #1 was supposed to ship last week, but won't be available until later this week.
Non-Sport Update offering special variant Serenity cover issue

Sorry I missed this earlier, Non-Sport Update has been offering a special variant Serenity Cover issue with a very limited edition foil Serenity card. It will be available at the Inkworks booth at Comic-Con, but if you can't make it the magazine is available directly in limited quantities.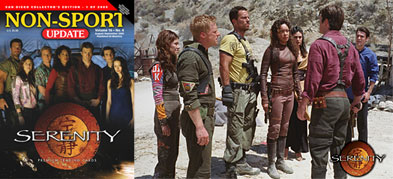 July 7, 2005
Prepping for Comic-Con

As many of you know, the creators of SerenityMovie.net (this site - in case you are asleep at the keyboard), are co-charing the fan tables at Comic-Con and we'll do our best to bring you all the latest Serenity news from the con. But in the mean time while we prepare, news updates are going to be slow.
July 5, 2005
The Signal Episode 2 Now Live

Episode two of the Firefly & Serenity podcast "The Signal" is now live. You can download direct or subscribe with iTunes 4.9 (search for the word 'Signal') or subscribe with iPodderX (iPodder for Windows) with the following URL:
http://signal.serenityfirefly.com/podcast.xml
June 30, 2005
Joss talks about Summer Glau, X-3 and Serenity II,III

From the official site:
Here's an odd little story:
Summer did read for Kitty in X3. I know because she called me and
mentioned she was going to and did I know anything about the
character (there were no 'sides' to study -- they had to get them
when they came in). So the girl I turned into sort of a superhero in
my movie was going to read for the character that most influenced ALL
my girl-heroes, Kitty Pryde. Karmically funky. Anyhoo, she called me
after and said it was very emotional and kind of like when she read
for FIREFLY, she just got into a very intense groove. She started
telling me about the scene she read and that's when I realized WHY it
was kind of like she read for FIREFLY. 'Cause (as you may know) it
was a scene I wrote for Astonishing X-Men issue #5. I assume they
just didn't have sides ready and used that but this was like a karmic
moebius strip, it was just too folded in on itself. In this time of
odd, I turned to beer. (No I didn't. Stay in school.)
I don't know what the X-peeps are looking for -- or even if that
other girl has really dropped out -- but for my money, Summer would
make a wonderful Kitty. (And I don't say that lightly.) As long as it
doesn't interfere with SERENITY II: RICARDO MONTALBAN'S STILL PISSED -
- or, much more importantly, SERENITY III: SO VERY NUDE.
I have shared my tail. (Lord, that's what I actually typed! I
mean "tale"! What will people think of me?) No tail sharing. Oh so
lame.
now off to make blinis!
-j.

Find some Serenity during the hectic holiday season at the Big Damned Flanvention, the first Firefly/Serenity convention in the US. Leave the cold behind and come visit our Big Damned Heros in Los Angeles on the weekend of December 9-11.
June 29, 2005
Links section updated

After months of me ignoring it, I finally got around to updating the links section. Thanks to SerenityFirefly.com for a bunch of the links. If you know of a good Firefly or Serenity link I missed please let me .
June 28, 2005
Win Inara's red dress from Firefly!

The costume designer for Firefly Shawna Trpcic has donated Inara's red dress from Firefly to the charity prize drawing for our Firefly / Serenity fan table at Comic-Con! This is the *real* dress, not a reproduction. Isn't this community great!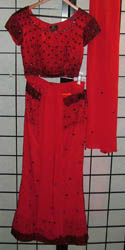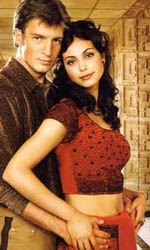 Serenity has officially been rated PG-13

The official site now shows Serenity as having a PG-13 rating. That's a big relief. Had it received an R rating, it's chances of earning money would have been severely limited. It's actually a bit unusual for a movie to get rated this early, which lends some credibility to the rumor that the movie might be moved up. Interesting.

June 24, 2005
U.S. Screening #3 of Serenity a big sucess

Reports from the various screenings across the country are coming in and it sounds like th
e Serenity buzz is growing louder with each one. I attended the Salt Lake screening and it was great to finally meet so many local Browncoats. Where have you guys all been? Please stop by the message board and say hi!!
"The Browncoats Rise Again"

The Weekly Standard has posted a great article about the Browncoat movement (some spoilers).
June 23, 2005
Happy birthday Joss

Will he show up at one of the prescreenings on his birthday today? If so, send the pictures.
Third U.S. prescreening today!

I managed to snatch up tickets for 20 of my closest friends and family. I look forward to meeting some local Utah Browncoats. And to the Universal execs, thanks for adding us to the list this time (saves me a lot on travel expenses!) Now what are the chances we'll get a BDH in Utah? Okay, okay... stop laughing!
Blatent commerial request
Hey Browncoats, as many of you know my day job is creating promotional DVDs and DVD/DVD-ROM features for the entertainment industry. (Yes, believe it or not, I do this from Utah!). Our company has been given the greenlight to create a Serenity Promotional DVD, but only if we can line up some advertisers to help offset the cost of replicating the discs. For those of you who've seen our company's work, you know it kicks ass. Combine that with our passion for Firefly/Serenity and you know we would make a disc you would all die to have, and to show to your potential Serenity converts. So, if you work for a fairly large company that is interested in advertising to several hundred thousand highly focused fans and their friends and family, please as soon as possible. Thanks - Jeremy
June 21, 2005
World's First Firefly / Serenity Podcast now available

An international team of Firefly fans (myself included) has produced the first episode of "The Signal" a Firefly / Serenity podcast. The offical podcast site is: www.serenityfirefly.com
Please give us your feedback.
[update]
The official RSS link is now live, copy and paste the following URL into your favorite podcasting software:

http://signal.serenityfirefly.com/podcast.xml
If you are saying "What's a Podcast?" Learn more at:
wikipedia
Podcast Alley

In summary a podcast is basically an internet radio broadcast. Think Wayne's World meets Radio meets TiVo meets the Internet.

June 19, 2005
Morena Baccarin talks about Serenity and Inara

About.com has posted a great interview with Morena, where she talks about her character, Joss, hanging out with the cast, and her opinion about the possibility of a return to TV.
June 17, 2005
Cast of Serenity cast makes EW "Must List 2005"

Entertainment Weekly includes the entire cast of Serenity in their Must List 2005. Includes a great out- of-character photo of the cast.
June 14, 2005
Serenity release being moved up??

This post at Fireflyfans.net has raised some eyebrows.
Quote reportedly from a Universal distributor:
"Oh...you guys probably won't even have to wait until September 30th anymore. Our test markets and advance screenings are off the charts...we had no idea...when you said, 'Big following', I didn't realize how big..."

"All of us [Meaning the distribution fold at 'Versal] really wish we'd just gone ahead and premiered it in May. It's working out as well as "Star Wars" and if we'd started in May, it would have run all summer."
To which I say "Duh...!" Actually I'm not sure how I feel about this. I'm inclined to say that at this point we should keep the planned date. That way Sci-Fi has enough time to air a few episodes of Firefly and we the fans can continue our guerilla marketing through the summer cons. But, then again, if they think releasing it earlier will increase it's numbers... well, they're the number crunchers. He ended the conversation with:
"I'd go ahead and look for a nationwide release to be earlier than September 30th."
June 12, 2005
Prescreening #3 sells out in minutes

As expected, tickets for prescreening number 3 sold out in all 35 cities in minutes. I can personally testify to the fact that Salt Lake City sold out in 3-5 minutes! I managed to get just enough tickets for my friends and family. Who knew there were so many local Browncoats?? If you are from the area, stop by the message board and say "hi". We are trying to organize a little meet and greet before the movie.
Article in Dallas News about Serenity Screenings

DallasNews.com has posted an article about the Serenity screenings. Has a few good Joss quotes. Site requires registration (use bugmenot.com to avoid registering).
June 8, 2005
SFGate talks about Firefly cancelation

SFGate has written an interesting article about our little (or maybe not so little) community of Browncoats.
'The Inside' starts tonight!

The pilot episode of Adam Baldwin and Tim Minear's new TV show "The Inside" premiere's on Fox tonight. Reviews have been mixed leaning toward positive. The selfish part of me wants the show to fail just so we can guarentee Adam and Tim's involvement in Serenity 2 & 3 and the return of the TV show. But those are far enough in the future, that for now I hope the show does well. So tune in and help fund Adam and Tim's paychecks in the mean time. ;)
June 7, 2005
Serenity preview screening #3

Rumor has it, Universal is going to be doing a third preview screening on June 23. If you haven't been lucky enough to get into an earlier screening, I highly recommend you keep an ear to the ground, because tickets will go VERY fast. In fact apparently Fandango inadvertently posted the link for the L.A. showing earlier today, and it's already sold out! The official site www.cantstopthesignal.com will eventually post the links to buy tickets, but if the last two viewings are any indication, most of the venues will be sold out by that time, so my best recommendation is to watch the various message boards for links (also www.serenitymovie.com, www.fireflyfans.net, and the OB.)
Coming soon: Firefly / Serenity podcast

"Companion Kate", myself and several others have decided to produce a Firefly / Serenity podcast. We need writers, producers etc... If you can help, please pop over to the message board and let us know your skills. (If you don't know what a podcast is... too bad you are just too old. Just kidding! Podcasting is the future of radio, read about it here.)
Screening #2 Follow up

As you all know, last month I sneaked off to Phoenix for my second viewing of the BDM, and I can safely say, it only gets better. I actually enjoyed the film quite a bit more the second time around. I think because I had such a huge preconceived notion of what the movie would be, on my first viewing I spent a lot of mental energy adjusting those expectations. This time around I was able to just absorb the emotions and details. In fact I take back a some of my minor quibbles about the movie. The pacing actually felt much better this time (even though the movie itself didn't change). I really think this movie is going to do well, but only with your help.
Please visit the guerilla marketing section and help spread the word!
Summer Glau in "The 4400"

Looks like Summer is going to be playing another crazy girl in the USA TV show "The 4400". It aired a couple of days ago, but I would guess they will repeat it. I can't give a review, because I haven't had a chance to watch it on my TiVo yet.
June 6, 2005
Nathan Fillion will be attending Flanvention 2005

It has been confirmed that Nathan Fillion will be attending the December Flanvention Convention. That leaves Gina Torres as the only BDH not attending. So I finally bit the bullet at bought a ticket... Man that's an expensive con.
May 31, 2005
Jewel updated her blog

Jewel talks about visiting Denver for screening number 2, and her weight!
May 25, 2005
Excellent Joss Interview

DarkWorlds has posted a great three part interview with Joss, minor spoilers (theme and tone).
May 19, 2005
Browncoats: You have a mission!

Drop whatever you are doing. NOW is the time to convert millions of Star Wars fans into Browncoats. Print out the flyer below and take it to your neighborhood copy center, make as many copies as you can afford, then cut them in half and pass them out to all the Star Wars fans exiting your local theaters. You may want to be discreet, since many malls and theaters have policies against this very thing. But who's going to let a silly Alliance-like rules stop the Browncoats? However, if you are asked to stop, please do, we don't want to upset the theater owners, they are our friends remember. *ahem*

11th Hour, if you are reading this, I hope you don't mind that I updated a couple of your wonderful flyers for this urgent purpose. Let me know if you want me to remove them. Thanks to Shiny over at FireflyFans.net for the idea and the phrase "SITH HAPPENS".
Please download and print out one of the files below (either version will work). To download Right Click on either of the files below and select "Download Link" (or some similar terminology), Mac users option-click on the .png. Find the downloaded image on your computer, unzip if necessary, open and print:
Sith_Hapened_Serenity.zip (272k)
Sith_Happened_Serenity.png (336k)
May 19, 2005
Firefly coming back to TV! – in reruns...

FIREFLY (FOX) - The Sci Fi Channel has landed the repeat rights to all 15 hours of the short-lived FOX series (and basis of the upcoming "Serenity" feature film). The network's July schedule lists the series as joining its Friday lineup on July 22 at 7:00/6:00c where it will precede original episodes of "Stargate SG-1," "Stargate Atlantis" and "Battlestar Galactica."
This is great news, after all the best way to create new converts is to get them to watch the show, and just as the Serenity buzz is starting. Unlike Fox, Sci Fi's Fridays are their highest rated night. Stargate(s) and Battlestar are getting huge ratings, so we couldn't ask for a better slot (except maybe AFTER those shows rather than before.) Expect a new wave of newbies soon!
May 8, 2005
I'm back, Serenity Review

I'm back from Vegas and I've posted my review of the movie. It was awesome meeting all of you that were there. And, as was rumored, Joss showed up, but unexpectedly he brought Summer with him. What a pleasure it was to watch the BDM with the writer/director and the person who, in my opinion, shined brightest in the movie. Joss gave a nice speech before the show started and they even stayed late and signed autographs for everyone in the theater. Have I mentioned how cool these people are? Summer seemed a bit shocked to see me again so soon after having seen me just a few days earlier in London - hehe! (No, I am NOT obsessed with this show!)
I've also re-opened the spoiler room, but please, if you haven't seen the movie, do yourself a favor and steer clear. And if it's not too late, I would even suggest steering clear of the trailer. Now that I've seen the movie, I think it does actually give too much away
More preview showings May 26th!
Joss just posted the following to the official site:
CRUSHING DISAPPOINTMENT...

...is not in store! Good things are coming... to a theater (possibly) near you!

It's Joss, your roving reporter, with another ZOWIE! exclusive(!) hot off the presses! Browncoats Bring Boffo B.O.! Vegas Vibe Very Vivacious! You heard it first here, true believers...

Okay, first of all, being that guy is exhausting. So no more roving and on to the meat of the thing. I just saw the whole cast today (which is in itself a wonderful and rare thing) and we all compared notes on the screenings, the general feeling being: damn. As in, Big Damn. You guys were SO sweet. We all thought it was a grand time. More (or at least just as) importantly, the Uni Brass thought it worked out great too, so... wait for it... there's gonna be more.

You might have heard rumors, but I'm here to confirm. On thursday the 26th the studio is doing another round of hit-and-run screenings, and this time it's not ten cities -- it's twenty. It's another vote of confidence from the studio and another chance for us to say "thanks" to you guys for keeping this all rolling. And most importantly, another chance to run that videotape of me before the movie, looking so tragically sexy.

"Wait a minute! What cities!?!?! Hey, %#$@face, stop talking about how sexy you are (although you are confessedly quite the dish) and give us the info!" Well, I don't actually know. I think we'll be repeating in the cities we've hit and adding 10 new ones. I expect can'tstopthesignal will have the info some time tomorrow, and let the manager-threatening begin! (Or, you know, the ticket buying.) Hopefully one of those cities will be near you, and won't be one where the film breaks and has to start again (heh heh... professional showbusiness... ). I don't know if any of the peeps is gonna be able to come out this time, but if they can they will, and I know Jewel's going somewhere 'cause she was working last time.

That's it! Except to add that Summer and I were pretty overwhelmed last Thurs, and I got the impression everyone else was too. Of course everyone else didn't have to put up with Summer's constant whispering of "I SAVED this film, Hackboy!" or her "surefire" system of winning at craps that had me down six large come the dawn... That girl. Just trouble.

Enough with this post. You guys are beyond swell. Let the party continue.

-j.
May 4, 2005
In less than 48 hours I will have seen Serenity!!

Tomorrow morning I'm driving down from Provo, Utah to Las Vegas to see the Big Damn Movie!! In a word... Shiny! Rumor has it a VERY special guest may be in attendance.
Jewel talks about Starfury Serenity

Jewel updated her blog and talked all about the Serenity con that she attended.
April 29, 2005
Friday part 2 Blog from Starfury Serenity (scroll down for part 1)

After we left Alan behind to fend for himself. (Stupid, stupid, stupid!) We checked in and posted the message you read earlier and took an expensive cab to the Thistle hotel. We checked in and somebody immediately recognized me as Chris Buchanan... Very complementary, but sadly not true. We spent the next several hours chatting with various Browncoats and eventually ran into fellow American's Reanna and Parson. We went to dinner with them and returned just in time to sneak into the back of the room for the opening session which was supposed to start at 7:30. Strangely enough they started late, hrmm... wonder if they were waiting for a certain lost soul to return from London... Eventually after sitting through some fan trailers, some good some not so much, Clare Kramer came onto the stage and started introducing the guests. Starting with tonight's surprise guest Mark Sheppard "Badger". (Not to belittle Mark, in fact it's nice to see some of the guest stars showing up to these cons, but apparently the originally planned surprise guest was supposed to be Joss, but he couldn't make it because he's busy perfecting Thursday's sneak preview showing of Serenity.)

Clare then invited each of the guests on stage one at a time to introduce themselves. If memory serves, it was Chris Buchanan, Mark Sheppard, Ron, Jewel, Morena, Summer, Alan, and Nathan. I have to thank Alan for giving us a shout out as "the two he met on the bus from Utah". Throughout the night I was pleasantly surprised to be recognized as either the person who runs this site or even better, a person who is in the movie. (I hope - guess I'll find out if I made the cut this Thursday.) That was pretty much it for the opening event. Everybody came back onto stage then Clare told us all to start partying. Which we happily did.

The VIPs all went upstairs to a cocktail party where the first 180 who registered got to hang out with them. Since I was register number 702, I sadly was not allowed to attend. However, throughout the rest of the night, the VIPs would occasionally cruise on over to the dance floor and we would catch a moment or two with them as they passed through the parking lot. We spoke briefly with Alan again (thanked him for the shout out), Matty (Jewel's hubby), Nathan, Mark, and had a long conversation with Chris Buchanan, who's always more than happy to share his insights into the movie making process.

Eventually we made the long walk back to the hotel and nearly got accosted by a crazy drunken homeless man.

End of Day 1


Trailer available in High Definition!

For those of us lucky enough to own a fast Macintosh running Tiger (Mac OS X 10.4), you can download and watch the high definition Serenity trailer. For those that aren't cool enough to own a wicked fast Mac (and frankly I can't think of a better reason go run out and buy a Macintosh G5 - I can think of many great reasons to buy a Mac (cool, fast, no viruses), just none better than watching the Serenity trailer in High Definition!), then here's a screen shot. (By the way, my life is now complete. Since my two passions in life are Serenity and High Definition Video and they just magically converged into a perfect moment.)
Early Friday Blog from Starfury Serenity

Spent the last 3 days in London proper and did the tourist thing, visited London Eye, Westminster Cathedral and London Tower. Today my travel buddy and I took the train down from London to Heathrow, we were hoping to meet up with other fans meeting at the local McDonalds. But we ended up running late, which turned out to be a HUGE blessing. We finally made it to Heathrow and hopped onto an empty hotel bus. Of course the bus had to stop at every hotel along the way, never picking up a soul. I kept thinking, wouldn't it be fun if the bus picked up another Firefly fan, then we could all chat. Finally, just before our stop, we stopped at a hotel and there was a passenger ready to load, I looked up to see if it looked like we might be picking up a fan - and thought, wait... he looks familiar... Holy Shit, that's Alan Tudyk!! Yes, 800 fans in the area, and we don't run in to any of them, we run into Alan! As he was boarding the bus, I spoke up and said, "Hi Alan." He looked slightly surprised, which he shouldn't have since I had my Blue Sun shirt on, my Serenity Button and three Blue Sun tattoos on my head. So we proceeded to chat for about 3-4 minutes. He had just checked in and was heading into London - ALONE, yes ladies, he was all alone.. alone and worried he might get lost London, and not make it back in time for the con. He said that Nathan was already there, but neither of their phones worked so they probably wouldn't have a chance to hook up. We talked about the trailer, I informed him that Serenity was topping the buzz lists on Yahoo and the Blogs, and getting better buzz than both Superman and Spiderman. He seemed rather surprised. I said, "I think Serenity is going to be bigger than any of us thought." We continued to chat for a little while, but all too soon our stop arrived and we said goodbye. In hindsight we should have offered to help keep him from getting lost in London by accompanying him - oh well. Nevertheless, what a great start. :)
April 27, 2005
More early showings of Serenity

More news from Joss!:
Hey guys.

Well.

It gets better.

Unless.

And, no, I'm not talking Australia (but Hi, Australia! anyway), I'm talking here in the more-or-less-United States, a one time multi-city Browncoat sneak event. Thursday, May 5th at 10:00 pm, the movie (Serenity! Pay attention! Jeez.) will be playing at exactly 10 theaters in 10 cities across the country. You (or possibly someone much like you) (or possibly a robot EXACTLY like you, but with better manners and sonic arm-lasers, sent to take your place) will be able to buy a ticket to see Serenity months in advance. Not just the bitty trailer with not enough Kaylee and Book, but the whole film, in its extremely almost completed state.

Maybe they thought it was a fluke. Maybe they wanna see if people really do care about the flick. Or maybe they're just treating us with respect and kindness, though that last option confuses and terrifies me as much as these changes my body is going through (I'm "perspiring" and becoming "interested in girls", which believe me is very unsettling when you're 40.) Does it matter? The plan works for me, and it can work for a select bunch of y'all. Here's what I know:

The cities to be hit are:
Seattle
Austin
Sacramento
Boston
Altanta
Chicago
San Francisco
Las Vegas
Denver
The Portland of Oregon

If you're in or near one of those, you might wanna stop by. There's supposed to be a "Can't Stop the Signal" page on this website (I don't know where it is -- hey, I remembered my damn password, doesn't that buy me any cred?) There should be more info there soon about how to get in, bringing peeps into the fold, I think there's even competetions and stuff. (All I know is I have exactly 20 Brownie points. I answered ONE triv Q and got it wrong. Forget cred. I have no cred.) Now a couple of us might just creep into one of those major metropolitan multiplexes to see if anyone does show up, so remember: swearing in Chinese ONLY.

All right. This will please the fans and satisfy the employers of Joss Whedon, so I must stop as my arm-lasers are getting tired. I politely thank you for your attention.

Should be fun.

-j.

Oh my $#@%! I so can't miss this. Looks like I'll be driving to vegas one whole day after I get back from London (A job? What's that?)
Serenity Trailer now online

In case you missed it. The spoilery trailer for Serenity was released yesterday, and it's being featured on the main download page at the Apple QuickTime Trailers site...
April 22, 2005
Official Serenity Trailer this Tuesday!!

Joss made the following announcement on the official Serenity Movie site:
Hey guys.

I'm here on the official site, so that can only mean one thing: somebody finally told me my password! (Again.) It probably also means that I have some big-ass announcement or other. Well tops on the announcement list is this: after months of intensive yoga, i can finally touch my toes! (They feel round and bunion-y.)

But there's more! I'm talkin' movie news, peeps, so no more drumroll: Trailer. Serenity. Tuesday.

Yeah, kids, the haps is hap'nin', and it runs thus: EXCLUSIVELY on Apple movie trailers (and linked through this site as well of course) will be a small, medium, large or FULLSCREEN trailer for Serenity the major motion movie. Yeah, THE trailer. And the following Friday said trailer hits theaters. Which theaters? Until I get confirmation you'll have to guess, but I'm betting you can.

Now, here's a word of warning: this trailer ain't shy. If you're looking to live totally spoiler-free, know that there's plenty of key dialogue and images running through this bad boy. It's pretty tasty, though, and it doesn't give everything away. But close scrutiny will definitely learn you much of what's to come. (Anakin TOTALLY goes evil.) It's a nice piece to while away the time till September, and hopefully should intrigue th' peeps that don't have coats of brown.

The only thing more exciting than y'all finally seeing this was showing it to Nathan. Like a schoolboy giggled he.

Bye-ee!

Joss "You can't take my toes from me" Whedon.
Sure hope my hotel in London has broadband! Speaking of which, that reminds me, I'll be in London all next week for Starfury: Serenity. So there won't be any updates. If you are going and you are reading this, I'd love to meet up sometime, so drop me a note. -- Jeremy
April 15, 2005
Dragon•Con Serenity guests announced

Joss (!), Nathan, Ron, Jewel and Morena will be attending Dragon•Con this year. Reserve your hotel now. Like I've said before, Dragon•Con is my favorite con, as it has much more of a party and less of a trade show feel. I'll see you all at the fan table.
Joss and some casts to attend Wizard World

The official Serenity site has confirmed that Joss will be attending Wizard World in Philadelphia on June 4, and he'll "be bringing some of our big damn heros with him."
More official Serenity merchandise on the way

Titan Publishing has announced plans for a Screen Play book and a Souvenir Magazine.